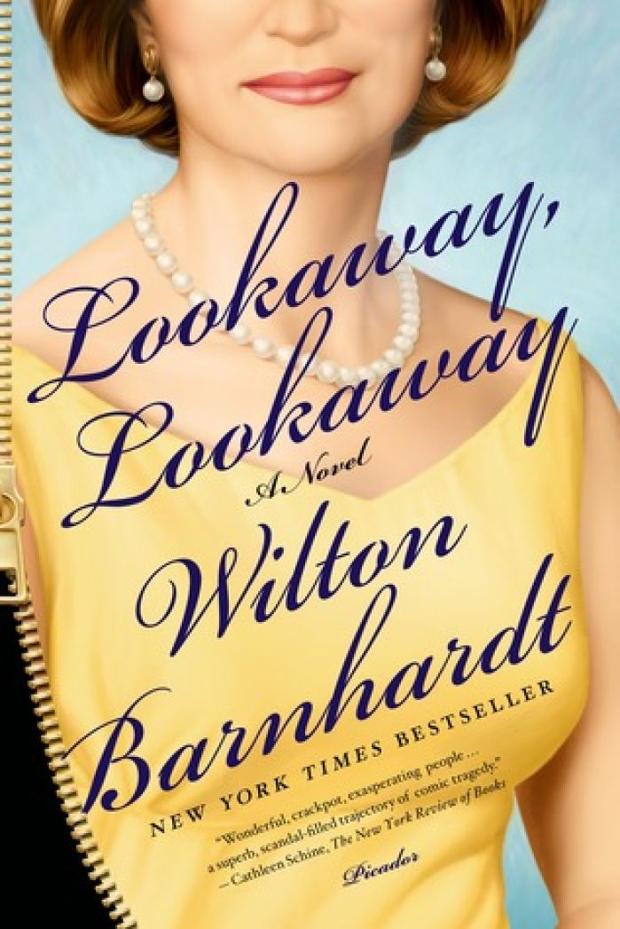 Southern fiction is an interesting genre, especially to those of us who grew up in the North. Contemporary southern writers like Lee Smith and Joshilyn Jackson feature characters in their novels who are distinctly southern, with all that implies.
Wilton Barnhardt's newest novel, "Lookaway, Lookaway," even has a title that conjures up the South, in just two words from the iconic song "Dixie." You are most likely not going to pick up this book expecting anything else but something set in the South.
"Lookaway, Lookaway" tells the story of the Jarvis/Johnston families. Each member gets one chapter to tell their story, so this engaging novel almost feels like linked short stories. The stories are set in different time frames, and each person's story is more interesting than the one before.
The first story belongs to Jerilyn, who is heading off to college at the University of North Carolina in Chapel Hill. She is the youngest child of Duke Johnston Jr., a former football hero at UNC who married the formidable Jerlene Jarvis.
Jerilyn can't wait to get to college and join a sorority, and not the staid, studious sorority her mother belonged to. No, Jerilyn wants to join the crazy sorority, where the girls drink too much, inhale coke and cigarettes to stay thin, and need her to bring their house GPA up.
Jerilyn's older sister Annie is a real estate mogul. Annie was a difficult child (and teen), completely rebelling against all the things her mother held sacred. She has been married three times (twice divorced on the way to number three), and her real estate empire is falling apart during the housing crisis.
Brother Bo is a pastor, married to Kate, a vibrant young woman he met in the Peace Corp. Bo is torn in his job; he wants to be a good pastor, and likes the public adoration, but he is not sure that this is the life for him. The politics of the job irk him. Kate wants to go back to the Peace Corp to make a difference.
Josh is the other brother, a man whose best friend is a black woman named Dorrie. Josh's parents question why Josh and Dorrie are not married as they spend all their time together.
Jerlene's has two siblings, the most colorful of whom is Gaston Jarvis, a celebrated Southern novelist who followed up his brilliant debut novel with a series of awful books about a brave female who fights for the Confederacy during the Civil War. He hates what his life has become and has become a reclusive, nasty alcoholic.
Each person has a secret they are trying to keep- insolvency, affairs, sexual orientation, a secret child born years ago- and some of these secrets spill out during a raucous, crazy Christmas dinner at Jerlene and Duke's sprawling, ancestral home that they will soon have to sell.
This is such a great scene, I had to go back and reread it. It reminded me of Adriana Trigiani's Valentine trilogy of novels, which always has a crazy family holiday dinner scene, but this one has more of an edge to it, and much less love. (But it does involve an ambulance.)
Reading "Lookaway, Lookaway" drops the reader right into this North Carolina family and their surroundings. They try to keep up appearances amid the chaos and secrets, and watching them try to stay one step ahead of the secrets makes for fascinating reading.
We find out how Jerlene and her siblings' upbringing, with a brutal, alcoholic father, made them into the adults they became. Jerlene was determined to make a better life for herself, and for the most part she did.
She is one tough cookie, and anyone who thinks they can get the better of her had better think twice. The term Steel Magnolia comes to mind. She will protect herself and her family with everything she has.
Although the book is 385 pages, it is such a quick read. You can't stop reading, you feel compelled to turn to the pages to read the next person's story. I also liked putting together the puzzle of what happened to whom when.
The characters are so well drawn, these people feel like someone you would run into if you spent time in Charlotte, which is also a character in the story. And if you think maybe your family has issues, the Jarvis/Johnston's may just have you beat.
I loved "Lookaway, Lookaway"; this is a terrific, juicy, summer read.