This post is part of Beth Fish Reads'
Weekend Cooking.
If you have anything related to food, cookbook reviews, novel or non-fiction book reviews, recipes, movie reviews, etc., head over to
Beth Fish Reads
and add your post. Or, if you want to read food related posts, head over to read what some interesting people have to say about food.
The Chef Next Door
By Amanda Freitag with Carrie King
Published by William Morrow
ISBN 9780062345837
Hardcover, $35, 299 pages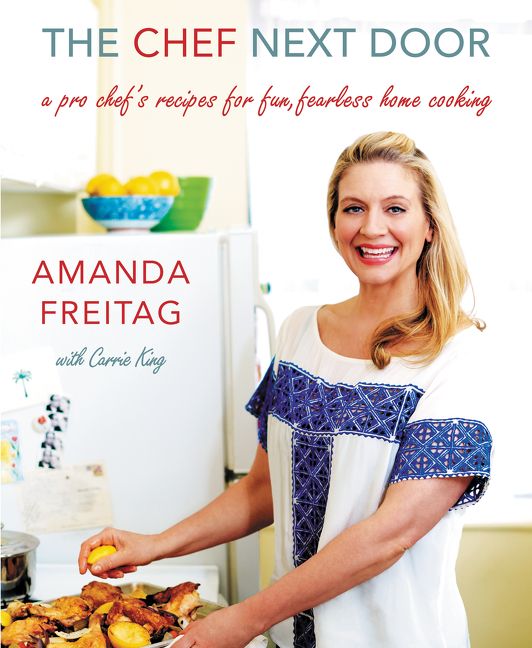 I had not heard of chef Amanda Freitag until I saw her one day on an episode of TV's
The Chew.
Host Michael Symon made a visit to her tiny New York City kitchen, where she proceeded to whip up some delicious recipe.
I was amazed that she could create something so lovely looking in such a small kitchen. And then I hoped my husband never saw this, because my excuse is that my kitchen is too small to be truly creative.
Freitag, along with Carrie King, has written a fabulous cookbook,
The Chef Next Door.
The book is beautifully presented, with heavy stock pages, and gorgeous photos of finished dishes inside.
Flipping through it, I saw lots of recipes I wanted to try. The recipes are for basic dishes that every cook should know, and I was surprised to find that most of the ingredients are things that most cooks have on hand. It frustrates me when I find a recipe I want to try, only to discover there are ingredients I need that I don't have and probably won't use again.
Some of the ones I want to try include:
Sweet Summer Corn Sauce- I may have to wait awhile for this one
"Lusty" Lemon Chicken- she uses a rind of Parmesan cheese in it
Pop's Beer-Braised Bold Beef Stew- made with red wine and 2 bottles of beer!
Orzo Pasta Salad
Impressive Dark Chocolate Mousse
I like the layout of the recipes. There is a paragraph describing the recipes, then an ingredient list. She includes a separate "prep" section, which lists everything you need to do to get ready. This is very helpful, and I haven't seen this very often.
Finally, the step-by-step numbered directions. Sometimes there are handwritten notes with extra information, and at the end of the recipe you can frequently find suggestions to pair with the dish.
The end of the book has a Menu section, which gives you ideas for celebrations such as Sunday Supper, Easter Dinner and Mother's Day Brunch, using recipes from the book. I find that very handy.
The Chef Next Door is definitely a keeper for me, it feels like a book that I can refer to and use over and over again. You don't need to be a gourmet to use this book, anyone who likes to cook would find it useful. I recommend it.
Amanda Freitag's website is
here
.