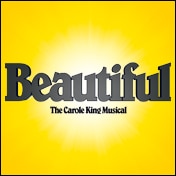 Looking through the Musical Numbers list in the Playbill for
Beautiful- The Carole King Musical
, you're likely to start humming all of the songs that you grew up with and know so well. (Though I could have done without the man next to me humming every single song during the show- not cool dude.)
Jessie Mueller won a well deserved Tony as Best Actress in a Musical last year for her brilliant and uncanny portrayal of songwriter/singer/icon Carole King. She absolutely embodies the spirit of Brooklyn born and raised King, and when she sings, you'd swear Carole King is right there.
The story takes us from Carole's teenage years, when she met the dreamy Gerry Goffin, who wrote a play and needs music for it. Carole and Gerry fall in love, become a songwriting team and then marry and become young parents.
King and Goffin end up working for Don Kirshner, where they meet and compete with another couple- Barry Mann and Cynthia Weil. As played by Jarrod Spector (who many will recognize from his long-running role as Frankie Valli in
Jersey Boys)
and Anika Larsen, who is a dead ringer for a young Julianne Moore, Spector and Larsen are fabulous, and a show could have easily been written about their fascinating characters.
We see King struggle with her husband's infidelity and possible mental illness, all while trying to be a good mom and striving to be a successful songwriter and be fulfilled creatively. When you realize all of the great songs this foursome is responsible for-
Will You Love Me Tomorrow, Up On The Roof, You've Lost That Loving Feeling, A Natural Woman
- it is stunning.
Everything works in this show: the music, the story, the acting. It reminds me of
Jersey Boys
in that respect; it's a terrific musical with a interesting story behind it. For those who came of age in the 1960s, when music changed so much in just a decade, it is a wonderful trip back through the music of their life. Let's just say, you will be searching out the music for this one on ITunes.
Mueller has left the show, and I am curious to see how replacement Chilina Kennedy does; she certainly has big shoes to fill.
Beautiful
is a show to see even at full price.
The website for
Beautiful
is
here
.