I really enjoy a funny book, and recently I read three books by funny ladies that made me laugh out loud. And with the election madness that seems to be pervading the news, now is the time to laugh.
Laurie Notaro is new to me, and she writes both fiction and non-fiction. Her latest non-fiction book is
Housebroken
, and after reading this gut-busting book, I immediately went to find any of her fiction at the used book shop where I volunteer. (I scored with
there's a (slight chance I may be going to hell.)
Notaro recounts her many failings in the housekeeping and parenting department, and I loved her way with words in describing the feelings most of us have about being less-than in the days when we are bombarded with HGTV shows about uber-couples who remodel other people's homes and the perfect recipes people are creating in Facebook videos.
Notaro was unfriended by her father on Facebook, had no shelves in her refrigerator when her boyfriend (now husband) came to visit and brought beer (she told him to pile it on top of everything else), and her take on the famous book about tidying up your life by getting rid of all the things that don't bring you joy had me in stitches. If you are not a Martha Stewart acolyte,
Housebroken
is for you. Fans of Jen Lancaster will enjoy this one.
Jill Kargman's situation comedy
Odd Mom Out
on Bravo is one of my new guilty pleasures. She plays a version of herself- wife, mother, trying to build a career as a photographer on the Upper East Side in New York City, an off-kilter brunette in a world of cookie-cutter blonde perfect mommies- that is hilarious. If you have not watched the show, do yourself a favor and find it on demand.
Kargman's new book is
Sprinkle Glitter On My Grave,
a funny collection of essays that builds on her TV show. Since I live in her neighborhood, I related to many of her observations. She writes about a man who was panhandling outside a local popular restaurant. She usually gave him a few dollars, but this time offered to buy him lunch at the diner. He agreed and gave her a very particular, well-thought out order for a smoked, not roasted, turkey sandwich with Russian dressing on the side and a complete listing of additional fixings.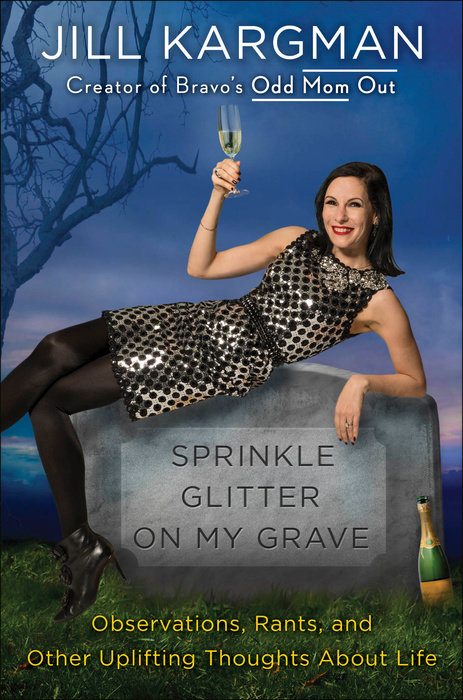 Kargman makes lists of things that bug her, like dog strollers (a big thing in NYC), fur vests, and going over the Visa bill with her husband. You don't have to live in NYC to enjoy Kargman's biting humor, but if you do you will enjoy
Sprinkle Glitter On My Grave
on another level. I almost fell off the treadmill laughing at some of her stuff, so be careful when reading.
Jen Kirkman is a standup comedian, best known to TV viewers from her many appearances on Chelsea Handler's Comedy Central talk show. Her latest book
I Know What I'm Doing- And Other Lies I Tell Myself
is a memoir about getting married, getting divorced a year later, turning forty, and life as a comedian.
I expected the book to be funny, which it is, but is also very moving. Kirkman writes very honestly about divorcing her husband after a brief marriage, and how hard it was to admit that she had made a mistake.
She writes about dating and life on the road as a comedian, but my favorite part of the book is where she decides to travel abroad by herself. She describes getting up the courage to eat alone in a restaurant and a horrible Twitter debacle she had while overseas that could have ended her career.
Kirkman is a terrific writer, and her tribute to the late Joan Rivers and how Joan inspired her is wonderful. She recalled passing Joan Rivers on the street when she was struggling to make it and then years later getting to have lunch together and what that meant to her.
I Know What I'm Doing- And Other Things I Tell Myself
reminded me of comedian Todd Glass's memoir
The Todd Glass Situation
, in that both books are honestly written and very moving accounts of their lives as comedians and human beings on this planet.
All three books contain lots of profanity, so if that is not your thing, you have been warned.