This post is part of Beth Fish Reads'
Weekend Cooking.
If you have anything related to food, cookbook reviews, novel or non-fiction book reviews, recipes, movie reviews, etc., head over to
Beth Fish Reads
and add your post. Or, if you want to read food related posts, head over to read what some interesting people have to say about food.
After picking up an ARC of Wilton Barnhardt's juicy novel about a Charlotte NC family
Lookaway, Lookaway
at last year's Book Expo, I finally got around to reading it last week. I pulled it out at the pool and had to reapply several layers of sunscreen as I did not want to put down this incredible story.
Although it clocks in at almost 400 pages, it is such a quick read, I finished it in two sittings.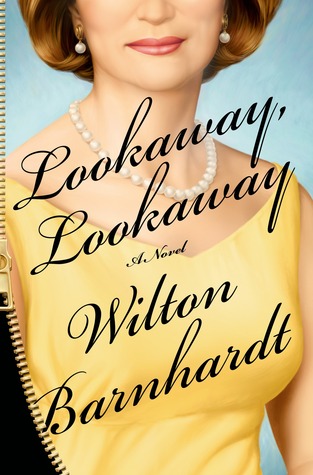 The members of Jarvis/Johnston family each get a chapter to tell their own stories, and when Duke, the patriarch of the family, takes his adult daughter out for barbeque, I knew immediately that this would be the perfect Weekend Cooking post.
The twin ideals of North Carolina barbeque- the phrase "pork barbeque" would be a redundancy- divide down the line where the flat and sandy, piney coastal plain meets the rolling red clay, deciduous-forested slopes of the Piedmont. Piedmont barbeque is pork shoulder, slow-cooked, eight or nine hours over hickory coals in what's known as "Lexington-style." Down east, they roast the whole hog on a spit in a smokehouse, letting the organs and marrow flavor the meat which becomes more tender and delicious than any pork recipe known to man. The pork is light as ash on the tongue- a mousse of pork, aerosolized. Both methods are delicious- there is virtually no bad barbeque- but Duke and Gaston, after the requisite sticking up for the native Piedmont style, spent many a university Saturday in spring on forays into the flatland of the east to go "whole hog."
Slaw. Just as important for Duke and many North Carolinians is the slaw. In the Piedmont there is "barbeque slaw", which uses the juices of the pig and vinegar and sometimes cracked dried chilies to make a red-tinted, spicy slaw of chopped cabbage. When combined with the chopped-up shoulder on a sandwich or just side by side on a tray, where one can intermingle the piles alchemically on one's fork, well, you have as North Carolina patron saint Andy Griffith would have said, "Goooood eatin'." Slaw down east is mayonnaisy cole slaw, which often, even in the greasiest of barbeque shacks, can taste store-bought from the supermarket deli counter. Sadly the best slaw (the Piedmont) and the best pig (down east) are never found together in the same operation. And then you got South Carolina. They can cook pig south of the border, too (Kingtree, Manning, Hemingway), and they tend to cook whole hog over wood chips like the east. Some barbeque joints make a hash out of the course ends of the chopped barbeque pile, which is then turned into a stew and served over South Carolina white rice...which is right up there for satisfaction with first love and winning the lottery. Anyway, they have a mustard-based sauce and that may not sound good but it is: creamy, tangy, sharp with a latent heat.
Now if you'll excuse me, I have to make dinner reservations at Blue Smoke as reading that passage has made me crave barbeque for dinner.