Kick
by Paula Byrne
Published by Harper
ISBN 9780062296276
Hardcover, $29.99, 352 pages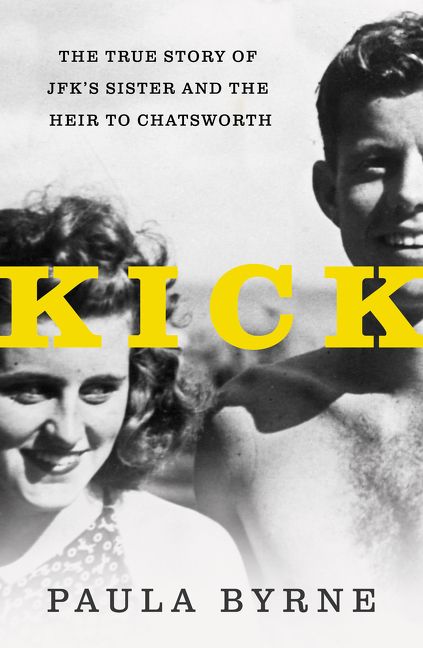 It seems to be the time for books about the Kennedy sisters. Recently,
Rosemary: The Hidden Daughter
by Kate Clifford Lawson was published and now Paula Byrne's
Kick
, about Kathleen Kennedy is on the shelves.
Not much has been written about Kathleen, the fourth child of Rose and Joseph Kennedy, better known as Kick. She, Joe Jr. and Jack were thick as thieves growing up together. When Joseph Kennedy was named U.S. Ambassador to England, Kick began to blossom.
She loved their time in England and when WWII was looming over England, the Kennedy clan returned to America much to Kick's dismay. She had fallen in love with Billy Hartington, the son of the Duke of Devonshire and Chatsworth.
The Kennedys were the embodiment of good Catholics and Billy's family were from the Church of England and historically hated Catholics. Though they were madly in love, their marriage would be problematic for all.
Kathleen returned home and got a job working at a Washington DC newspaper, and pining for Billy. She found a way back to England as a volunteer for the Red Cross, where she and Billy rekindled their love. Although she risked her mother's wrath, Kick accepted Billy's marriage proposal and married him outside of her deeply felt Catholic faith.
They were married for only a few months when Billy was killed in combat. Kick was devastated. She had lost her brother Joe in the war and her brother Jack was nearly killed when his PT-109 boat was destroyed in the Pacific theater.
She fought through the pain and eventually began a relationship with Peter Fitzwilliam, a married man. Kick and Peter were killed in a plane crash outside of Paris in 1948.
The first half of the book is filled with names, so many that it made my head spin. The book came to life for me in the second half, when Kick goes to England with the Red Cross. Byrne concentrates on Kick more, and the people around her less, and that strengthens the book for me.
Not much is known about Kick, or Rosemary, so these two books give us insight into these two ladies from America's most famous family. We see the strife between Rose and Kick over Kick's willingness to marry outside her faith, and Joseph's strong love and belief in his daughter to make her choice, though he disagreed with her.
I also liked reading about Kick's job in DC, how she made her way as a curious, intelligent young woman. Her relationship with her brother Jack was an important part of her life, and the death of his two closest siblings just a few years apart must have impacted Jack in a powerful way.
I recommend
Kick
for fans of the Kennedy family, as well as for anyone who likes a memoir about strong women.