This post is part of Beth Fish Reads'
Weekend Cooking.
If you have anything related to food, cookbook reviews, novel or non-fiction book reviews, recipes, movie reviews, etc., head over to
Beth Fish Reads
and add your post. Or, if you want to read food related posts, head over to read what some interesting people have to say about food.
Every Saturday morning, I hit the treadmill gym before I'm off to volunteer at the Book Cellar. I watch
CBS Saturday Morning
and I particularly enjoy their weekly segment called The Dish, where a chef is interviewed at a table filled with a meal of dishes they have created. It's great because the chefs aren't busy trying to cook on camera, they can sit and tell their story, and the viewer can drool over the beautiful food on the table.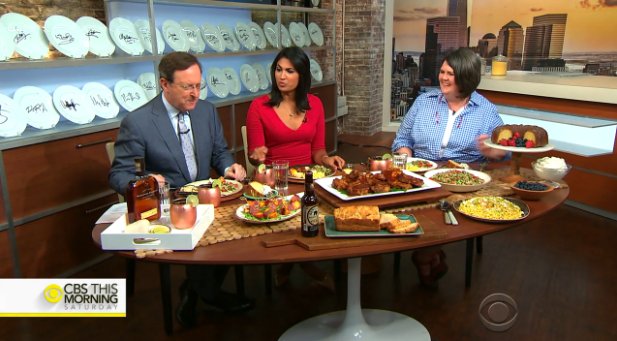 Anthony Mason, Vinita Nair and Chef Ouita Michel
Last week Chef Ouita Michel from Kentucky had a gorgeous spread before her. She owns five restaurants in Kentucky, the most famous of which is Holly Hill Inn. She's also the chef-in-residence at the Woodford Reserve Distillery, so many of the recipes she made for The Dish contained bourbon:
Grilled Peaches Wrapped in Country Ham
Happy Jack's Sweet Corn Salad
Black Eyed Peas
Bourbon Beer Bread
Pork Chops Bourbonnais
Kentucky Bourbon Trail Berry Cake
Her beverage was Woodford Thoroughbred
This would be a great menu for a Kentucky Derby party, but since that event has passed, I'm planning on making this menu for a Sunday dinner. It all looks so fabulous!
Here
is the link to the video segment and the recipes are posted there as well.
One note- CBS Saturday Morning also had a piece about an interesting PBS documentary airing this Tuesday titled
The White House: Inside Story.
It's about the permanent employees of the White House, including the first female Chief Usher and the kitchen staff. It looks fascinating, and
here
is the video to that story.