Reprinted from auburnpub.com
This month's Book Report tackles the topic of romantic relationships. Two of the novels, "This Must Be The Place" and "The Hopefuls" deal with the ups and downs of marriage and identity, and the third, "The Hating Game", reveals a relationship as it blossoms from hate to love.
Sally Thorne takes on workplace romantic relationships in "The Hating Game". Lucy Hutton and Joshua Templeman sit across from each other in their respective positions as assistants to co-CEOs of a publishing company. When the companies merged, Lucy and Joshua were forced to work in close quarters, much their displeasure.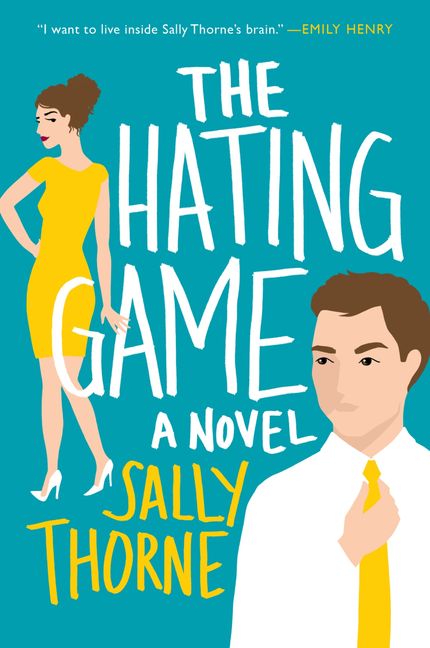 Lucy's Bexley team are lovers of literature, people who believed that literature is art, as necessary to people's lives as air is to breathe. Joshua's Gamin team is more analytical; they believe in "key performance indicator targets" and that books are units to be sold.
Each team needs the other to survive in today's competitive market. Joshua thinks Lucy is too soft on her staff, letting them shirk their responsibilities so that she has to pick up their slack. Lucy thinks Josh is a jerk, and the macho posturing of his team annoys her.
Though they claim to hate each other, events conspire to throw them together and the course of true love never runs smooth. The fact that they are up for the same promotion makes their rivalry even more personal and intense.
"The Hating Game" is a terrific workplace romance novel, and the reader roots for Lucy and Joshua to realize their feelings for each other. Thorne writes some hot and steamy sex scenes. Her first book is so well done, it felt like it was written by someone who has been doing this awhile. I loved the characters and hope to see them again sometime.
Jennifer Close's third novel, "The Hopefuls" is publishing at just the right time. Matt and Beth's story takes place in Washington DC, where Matt hopes his work as legal counsel in the Obama administration will help him land a position that he can leverage into running for political office himself.
Beth reluctantly follows her husband from New York City to DC, hoping to find her place there as well. She doesn't like politics, and in a company town like DC, it's hard to meet anyone who doesn't identify themselves by their security clearance level.
When they meet golden boy Jimmy and his wife Ash, Beth finally feels like she has a friend. Matt is envious of Jimmy's position and his easy way with people. Everything seems to fall in Jimmy's lap.
"The Hopefuls" reveals Matt and Beth's marriage through the prism of politics, and how difficult it is to be married to someone who is so totally consumed by his career when the other person's career is less satisfying. Matt and Beth compare themselves to Jimmy and Ash, and when they follow them to Texas to help Jimmy run for office, the problems in their marriage become magnified. Close gets the details of marriage so right in this book, investing the reader in their marriage.
She excels in her character development. The scenes with Matt's family, his overbearing mother who makes the in-laws sit at a separate dinner table from their spouses, are so perfectly written that we know these characters well even though they are only around for a little while.
Maggie O'Farrell's "This Must Be The Place" weaves together the story of Daniel, an American who while on a trip to Ireland to pick up the ashes of his dead grandfather, meets Claudette, a famous actress who ran away from her director husband and stardom with her young son to live in seclusion.
Daniel is upset about the dissolution of his marriage and the fact that his ex-wife refuses to allow him to see his children. He falls in love with Claudette and Ari, her son. He stays in Ireland, they marry and have two children of their own.
Claudette is a difficult woman, she prefers to stay on her secluded property, homeschooling her children. Daniel works as a professor of linguistics and loves his wife dearly.
Daniel has to face an event from 20 years ago that forces him to look at just the kind of man he really is, is he the good man he thinks himself to be?
O'Farrell brilliantly weaves together Daniel and Claudette's story, using perspective from others along the way. Her theme of the redemptive quality of love is one worth contemplating in this moving story.
Published by William Morrow Paperbacks
Trade paperback, $14.99, 384 pages
Published by Alfred A. Knopf
Hardcover, $25.95, 320 pages
Published by Alfred A. Knopf
Hardcover, $26.95, 382 pages