Home Field
by Hannah Gersen
Published by William Morrow Paperbacks
ISBN 9780062413741
Trade paperback, $14.99, 432 pages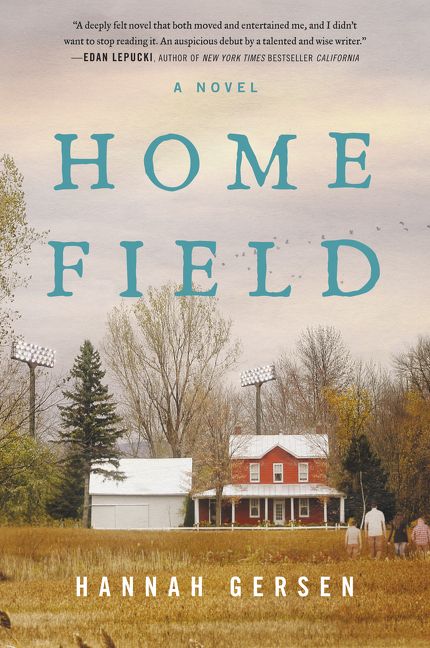 Hannah Gersen's debut novel
Home Field
is billed as a combination of
Friday Night Lights
and
My So-Called Life
. That's quite a high bar to set, and Gersen clears it with room to spare.
Dean is a successful high school football coach in a small Maryland town. He runs a terrific program, and is known and respected throughout the town. Years ago he married a young widow, Nicole, whose husband was a high school football hero. Nicole and her husband were high school sweethearts and had a young daughter, Stephanie, when he was diagnosed and died.
Nicole suffers from depression, perhaps she never got over the loss of the love of her life. Dean was smitten with her and young Stephanie, and they married and had two boys of their own, Robbie and Bryan.
As the story opens, Nicole commits suicide and is found by her eleven-year-old son Robbie. Stephanie is set to go away to college, and struggles with leaving her brothers and father to go so far from home. Robbie begins cutting class and acting out, and finally finds salvation by participating in the high school play.
Bryan has spending more time with Nicole's sister and her family, devoutly religious people. Bryan finds solace in religion, much to Dean's concern. He feels that his sister-in-law is unduly influencing his young son.
Coaching a successful high school football program is a time-consuming profession, and Dean comes to the conclusion that he needs to step down for the sake of his children. He also becomes involved with Robbie's school counselor, a woman he knew when she was a substitute teacher at his school.
Stephanie is trying to find her way in the world, and Gersen really nails the feelings of a young woman adrift. She is grieving the loss of a mother she loved, feeling angry that her mother abandoned them all, and sad that her mother was suffering so. She also feels guilty that she has left her brothers behind.
Reading this part of the story took me back to my own time going away to college, so vivid is the connection between Stephanie's experiences and most young women. Bravo to Ms. Gersen.
Just when Dean thinks he is losing it all, an opportunity to temporarily coach the girls cross country track team falls in his lap. He misses football, and he forms a connection with the girls that gives him a sense of control and accomplishment he is lacking in his personal life.
Gersen does a wonderful job with the setting and characters of her story. She has the small town atmosphere just right, and we care deeply about these people, even as we see them making mistakes. Dean in particular needs to learn the importance of verbal communication with his children. They need to talk about what happened to them, and he, like many men, has trouble with that.
Home Field
is an emotional, moving book that touched my heart. Gersen's ability to write so beautifully and realistically in the voices of Dean, Stephanie and Robbie is quite an accomplishment. I recommend
Home Field
to anyone who loves a good family story.
Thanks to TLC Tours for putting me on Hannah Gersen's tour. The rest of the stops are here:
Tour Stops
Hannah Gersen's website is
here
.