The Evening Spider
by Emily Arsenault
Published by William Morrow
ISBN 9780062379306
Trade paperback, $15.99, 400 pages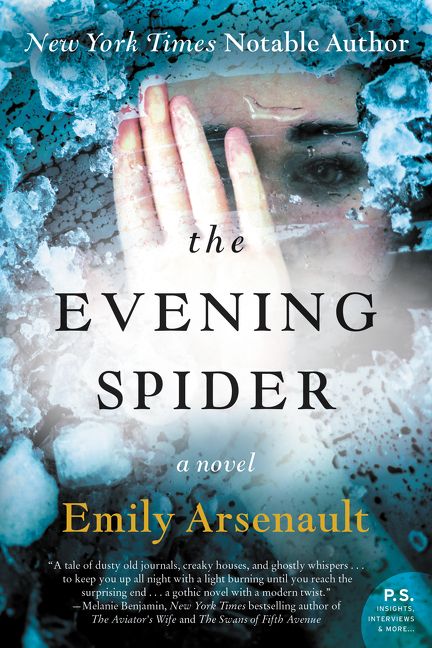 A few years ago, I read Emily Arsenault's novel
What Strange Creatures
and loved the brother/sister sibling relationship at its core. Her latest novel,
The Evening Spider
, has a sibling relationship in it as well, although that is not the central issue of the story as it was in
What Strange Creatures.
The inspiration for this story came from the author hearing what she thought was human voice over her daughter's baby monitor shushing the baby. She combined this with an interest in the true story of the murder of a woman in the 1800s, a woman she believed to be an ancestor.
The Evening Spider
introduces us to Abby, married to Chad, and new mom to baby Lucy, who has moved into an old house in the small town of Haverton, Massachusetts. Abby hears a voice over Lucy's baby monitor that sounds like someone is shushing her baby.
This unnerves Abby, and she does a little research about the previous owners of the house. She discovers that there is a diary from Frances Barnett, who once owned the house with her husband, Matthew, a lawyer.
Abby reads the diary and becomes fascinated with Frances, especially the letters Frances wrote to her brother Harry from a lunatic asylum Frances had been sent to by her husband. Frances was a new mom too, like Abby, and she became obsessed with a murder trial that her brother had a connection to.
As Frances' story unfolds through her letters, Abby tries to learn why Frances was committed to a hospital. She turns to the head of the local historical society for more information and a local medium to see if her home is haunted by Frances or someone else.
The story took awhile to get going, but once it does, it intrigues the reader. I found so many layers to this psychological suspense, including an incident that happened to Abby in college that may color her actions in the present.
Frances is a captivating character. She loves science, and her interest in how arsenic works gets her into trouble. She wasn't a traditional housewife with traditional interests in cooking and sewing, and that made people suspect of her.
I also found it surprising that in 1885 forensic science played such a big role in the murder trial. I would have thought that a recent phenomenon, but the lawyers used detailed forensic information from respected scientists to help prove their cases. (I hope this doesn't mean we'll see a new
CSI:1885
series.)
The Evening Spider
is a novel about obsessions- Frances for the murder trial and Abby's obsession with Frances. It features interesting, well-developed characters (just like in Arsenault's previous book), and the ending of the story is a surprise to the reader.
Fans of John Searles'
Help For The Haunted
will enjoy
The Evening Spider
. They both involve mediums, a haunted house and taut psychological suspense. And although I was a new mom over twenty years ago, Arsenault brings back those memories and fears of new motherhood vividly in this story.
I highly recommend
The Evening Spider
. It's a creepy, taut, suspenseful story that will keep you up at night reading to the end.
My review of
What Strange Creatures
is
here
.
My review of John Searles' H
elp For The Haunted
is
here
.
Thanks to TLC Tours for putting me on Emily's tour. The rest of Emily Arsenault's stops are:
Tuesday, January 26th: No More Grumpy Bookseller
Wednesday, January 27th: The Reader's Hollow
Wednesday, January 27th: Kahakai Kitchen
Thursday, January 28th: A Bookworm's World
Friday, January 29th: JulzReads
Monday, February 1st: A Literary Vacation
Tuesday, February 2nd: FictionZeal
Thursday, February 4th: Jenn's Bookshelves
Friday, February 5th: Kritters Ramblings
Monday, February 8th: bookchickdi
Wednesday, February 10th: From the TBR Pile
Thursday, February 11th: Book Hooked Blog
Friday, February 12th: Peeking Between the Pages