I'm Just A Person
by Tig Notaro
Published by Ecco
ISBN 978-0-06226663-7
Hardcover, $26.99, 240 pages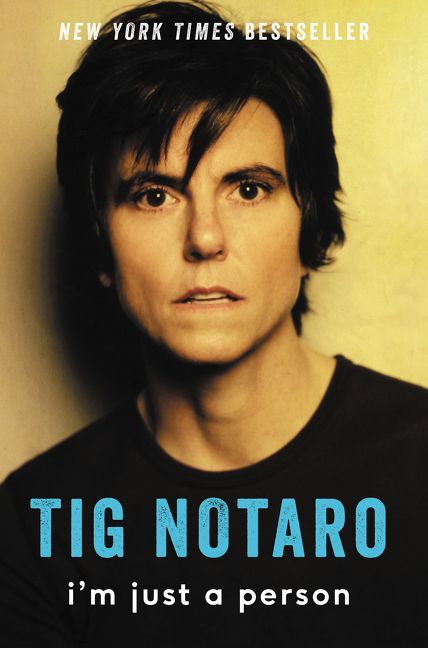 In 2012, stand up comic Tig Notaro made headlines when she began one of her performances with "Good evening, hello. I have cancer. How are you? Hi, how are you? Is everyone having a good time? I have cancer." The video clip of that performance went viral and the world soon knew of Notaro's situation.
But that wasn't all. In the space of four months, Notaro nearly died of a C-Diff infection, her mother died in a freak accident, and she was diagnosed with bilateral breast cancer. Her memoir
I'm Just A Person
shares Notaro's journey of those months.
The book opens as Notaro is taking a cab ride from the hospital back to her mother's house in Texas after her mother died. Tig had recently been discharged from a hospital in Los Angeles after a harrowing infection which resulted in her being unable to keep any food down.
She was weak as a kitten when she got the call from her stepfather about her mother. Notaro shares stories about her unconventional mother, a woman for whom "drinking with friends by the pool was (her) nine-to-five job and she took it very seriously."
Notaro was a poor student, held back twice in the eighth grade. She eventually dropped out of school and ended up in Los Angeles with some friends where she became a working standup comic.
I'm Just A Person
deals mainly with her four month ordeal. She writes matter-of-factly about her illnesses and fears, but it is her relationship with her free spirit mother and how Notaro came to terms with it after her mother's death that truly resonates here. Her description of going into her mother's home and looking at photos and her mother's belongings, and the memories that conjures up is moving.
You'll read
I'm Just A Person
in a few hours, it is a slim book, but Notaro's story will stay with you a lot longer and maybe give you pause to reflect on your own mortality and relationships. She packs a big punch in a few words. I recommend it.
Tig Notaro's website is
here
.